What happens when you take ROXY COTTONTAILS biggest "profiling" Hip Hop party and infuse it with Queer hosts (Contessa) and DJ's (Telfar and Kingdom from MR. BLACK'S CASTLE SATURDAYS) ?!!! You get a melange of "Industry" and/or Underground party people coming out of the wood work.
Typically Sway is known for it's Mondays Electric Punanni, and Rice and Pea's but something was missing for fashion hip hop heads.
Adding elements of queer friendly, fashion forward and Industry thinking – we get a balance of crazy partying and the ability (which Sway Mondays was missing for a while) NETWORKING.

With that being said, being involved on a Sway Monday that speaks to me, makes me very happy to be apart of a creative scene.

Not to mention the first Fruity Cocomuffs Diplo did a surprise DJ set after miss Mad Decent's MALUCA performed! This EDITION our home girl Shyvonne and Shamz Le Roc KILLED it.
So Queers, and Fashionista's who like to bump and grind and dutty wine to a party with an undercurrent of Queer friendly energy, this is it ONCE A MONTH AT FRUITY COCOMUFFS!
I LOVE SWAY MONDAYS! The best hip hop party in NYC, EVER, PERIOD.
Check out PHOTO by TONE FRUITY COCO MUFFS MAY 11TH 2009. CLICK PICTURE BELOW!




FIRST FRUITY COCO MUFFS W/ MALUCA, DIPLO, CONTESSA, ROXY COTTONAIL, TELFAR AND KINGDOM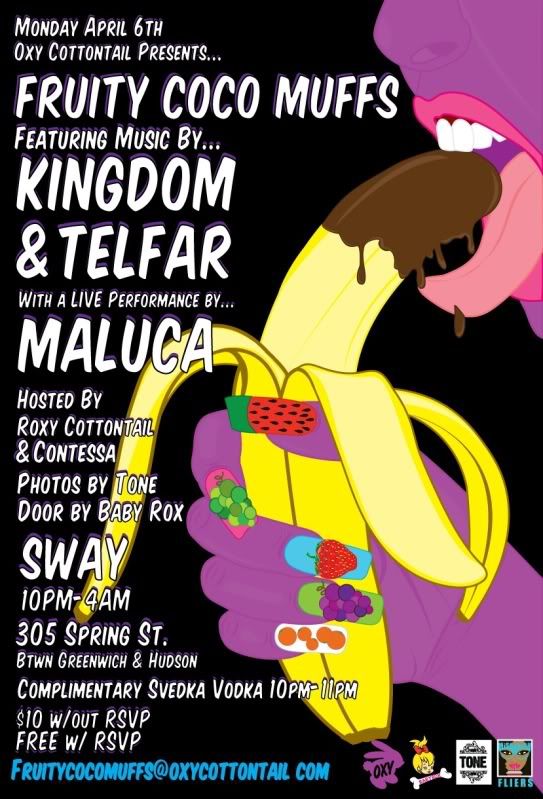 XOXO CONTESSA

TWITTER: CUNTMAFIA